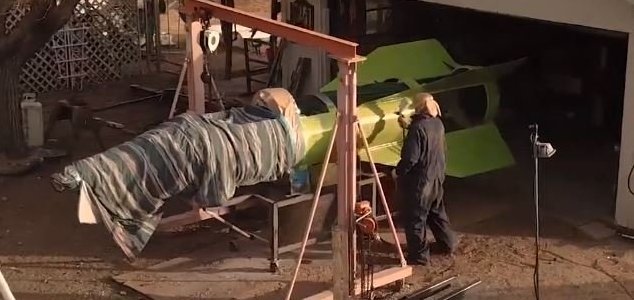 Hughes is back for another attempt.

Image Credit: YouTube / Rocketman the Movie / Mike Hughes
Self-taught rocket scientist and flat Earth obsessive 'Mad' Mike Hughes will attempt his latest stunt later today.
Hughes, who describes himself as a 'daredevil', is certainly no stranger to madcap capers having previously broken his back twice while undertaking extreme stunt jumps in cars.
Last year he managed to climb to an altitude of 1,875ft at 350mph in his own homemade steam-powered rocket in a bizarre attempt to prove to the world that the Earth is flat.
The launch was a success, with Hughes walking away with little more than a sore back.
Now, more than a year later, he's back for another try and this time he is hoping to ascend to twice the height of his previous attempt - again in the hope of proving that the planet is shaped like a frisbee.
As before, the rocket he will be blasting off in was put together in his own garage.
Given the dangers involved, it remains to be seen whether or not he will succeed a second time.
Source: Live Science | Comments (12)
Similar stories based on this topic:
Tags: Flat Earth, Mike Hughes