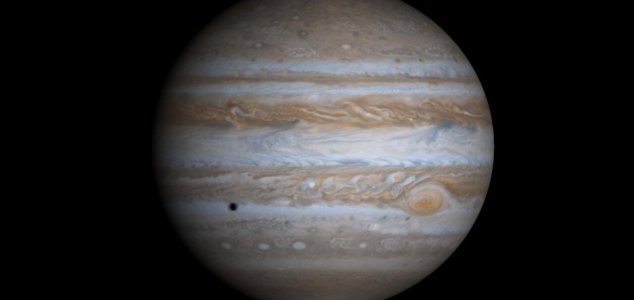 Jupiter may have had a violent past.

Image Credit: NASA
Physicists now believe that a large planetary embryo collided with the gas giant in the distant past.
NASA's $1.1 billion Juno spacecraft, which arrived in orbit around Jupiter back in July 2016, has already taught us much about our solar system's largest planet.
It has also raised a few new questions as well, such as why the gas giant's core is not as dense as expected and why its atmosphere contains an uneven distribution of heavy metals.
"Jupiter's interior models based on Juno's data suggest Jupiter has a fuzzy core that extends to almost half of its radius, which no one has ever imagined," said study lead author Shangfei Liu.
Now scientists studying this anomaly believe that they may have found the answer and it is all to do with the likelihood of a large planet colliding with Jupiter during the early days of the solar system.
Computer models have indicated that the core of this protoplanet would have needed to collide with Jupiter's core in order to achieve the density and heavy metals distribution we see today.
If the planet had merely skipped across Jupiter's atmosphere, it wouldn't have been enough.
The findings also suggest that Saturn may have been involved in similar collisions in the past.
"There are studies using Cassini's data (especially during its grand finale) to model Saturn's interior," said Liu. "But Juno was designed to measure Jupiter's gravity field, so the data is much better and models are more reliable. But Saturn's interior is definitely worth to look at in the future."
Source: CNET.com | Comments (2)
Similar stories based on this topic:
Tags: Jupiter, Planet