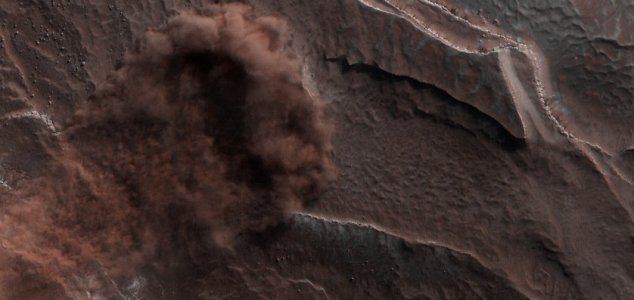 Avalanches still occur on Mars to this day.

Image Credit: NASA / JPL / University of Arizona
NASA's Mars Reconnaissance Orbiter has photographed a massive ice avalanche on the surface of Mars.
Released on Tuesday by the team behind the orbiter's HiRise camera, the image shows a cloud of dust where the ice has come crashing down a 500-meter-tall cliff face at the planet's North Pole.
"Every spring the sun shines on the side of the stack of layers at the North Pole of Mars known as the north polar layered deposits," the researchers wrote.
"The warmth destabilizes the ice and blocks break loose."
Source: CNET.com | Comments (7)
Similar stories based on this topic:
Tags: Mars