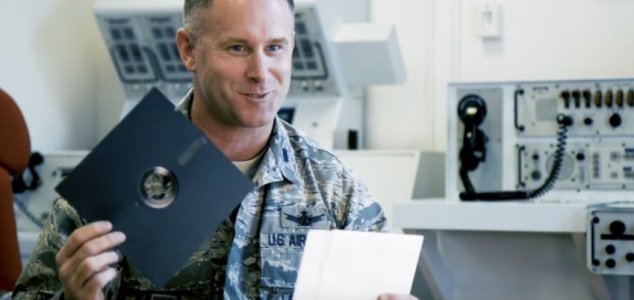 Nuclear operations on floppy disk - what could possibly go wrong ?

Image Credit: YouTube / Seeker
A few years ago it was revealed that US Strategic Command used floppy disks for its nuclear operations.
Given the sensitivity and critical importance of the United States' nuclear forces, it would be reasonable to assume that such systems are controlled by state-of-the-art computer technology.
Back in 2014 however, eyebrows were raised when it was revealed that the Strategic Automated Command and Control System (or SACCS), which is used by America's nuclear forces to send emergency messages from command centers to the field, was still using 8-inch floppy disks.
This antiquated disk format was first introduced in 1972 and has been obsolete for decades, so why would the United States be using something like this for its nuclear operations of all things ?
It is not actually all that uncommon for long-lived systems to be using obsolete formats, mainly due to the cost of repeatedly upgrading to newer machines after spending large amounts of money developing the software to work on the original computers.
While potentially more secure due to their offline nature however, such machines are notoriously difficult to repair because replacement components haven't been produced in years.
Fortunately though, the US military has actually been working to modernize its computer systems and to phase out old floppy disks in favor of a modern and 'highly secure solid state digital storage solution' for sending messages between command centers and field forces.
While it is unclear whether or not the transition process is now complete, we can at least rest easy in knowing that the fate of the world no longer relies on the integrity of a few old 8-inch floppy disks.
You can find out more about how the old system worked in the video below.
Source: Engadget | Comments (11)
Similar stories based on this topic:
Tags: Nuclear, Floppy Disks