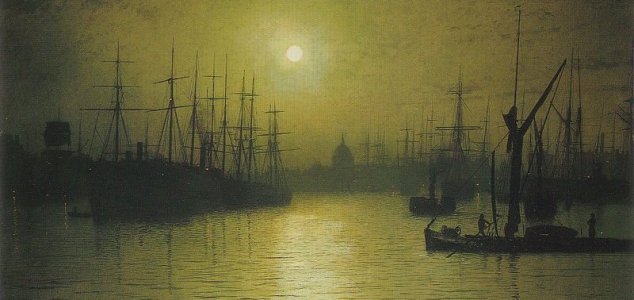 It turns out that some ghosts aren't quite dead...

Image Credit: John Atkinson Grimshaw (1880)
When Francis Smith pulled the trigger on a ghost in 1804, it sparked one of the UK's strangest court cases.
The story began several months earlier when various people around Hammersmith, London reported seeing what they believed to be the ghost of a suicide victim haunting the streets.
So prolific was this alleged spook that some residents even claimed that the problematic ghost had physically grabbed or attacked them in the vicinity of Hammersmith churchyard.
Keen to put an end to the troublesome spook's shenanigans, local man Francis Smith set out with his shotgun on January 3rd, 1804 in the hope of tracking it down and permanently laying it to rest.
Things quickly took an unfortunate turn however when he managed to shoot and kill bricklayer Thomas Millwood after mistaking his white work clothing for that of the specter.
Smith was subsequently charged with wilful murder and sentenced to death, however in an interesting twist the verdict was later changed to manslaughter and Smith's sentence reduced to just one year in prison with hard labour because he had honestly believed that the man he shot was a ghost.
The actual 'ghost' who had been plaguing the area later turned out to be a real person - shoemaker John Graham - who had been going around wearing a white sheet as a prank to scare his apprentice.
Smith's 'supernatural defense' would go on to become a point of contention in law for 180 years until in 1984 a similar verdict was reached during the case of a man who attacked someone who had been dragging another man across the street, only to find that he had actually been apprehending a thief.
The conviction of assault was quashed as he had legitimately believed a crime was being committed.
Source: Londonist.com | Comments (9)
Similar stories based on this topic:
Tags: Ghost, Francis Smith