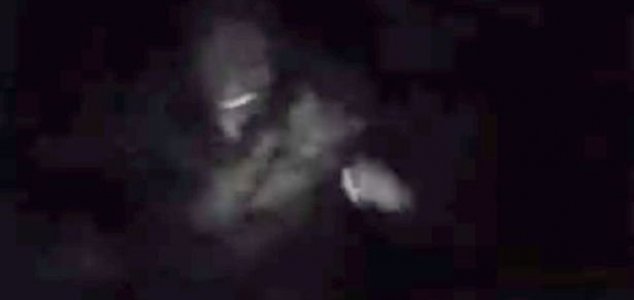 A still from the footage (which can be viewed below).

Image Credit: YouTube / Lightroad 12
A video has emerged showing an alleged Bigfoot charging towards a boy who was walking in the woods.
The footage, which was uploaded to the YouTube channel 'Lightroad 12' on October 20th, was filmed by a young boy walking through the trees at night with only the light of a torch to illuminate his way.
"A few weeks ago I spotted a Sasquatch figure near my school," the introduction reads. "To have proof, I decided to go back and get a video."
As the footage goes on, a rustling sound can be heard and the boy says "what is that ?"
A few seconds later, a large Bigfoot-like creature comes charging towards him, prompting a hail of shouting as the boy makes a hasty retreat in the opposite direction.
"For people who are trying to research about my encounter, it happened around eight-thirtyish in a not too large woods," he later wrote. "I heard some rattling in the bushes, and right when I turned to shine the light on the bushes, the Bigfoot-like creature jumped out."
"It did not chase me after I ran, it kind of just ran for a second then stopped and went back into the bushes. It was not bright outside so I couldn't really see how tall it was, but it looked around 7ft."
As for the authenticity of the footage - obviously there is absolutely no reason why the 'Bigfoot' couldn't simply be someone in a costume, meaning that the possibility of a hoax cannot be discounted.
The video, as well as the circumstances surrounding the encounter, do seem questionable.
You can check out the video for yourself below.
Source: YouTube | Comments (34)
Similar stories based on this topic:
Tags: Bigfoot