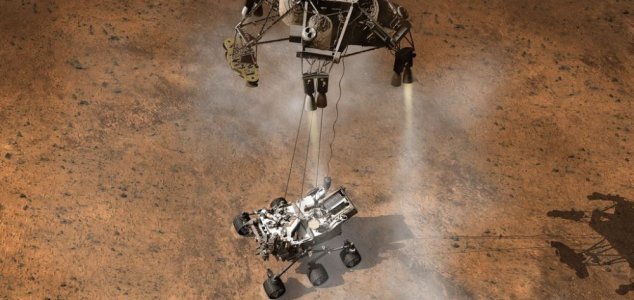 Returning samples to the Earth is extremely challenging.

Image Credit: NASA/JPL-Caltech
NASA and ESA are planning an ambitious mission to return samples of Mars to the Earth for the first time.
While previous missions to Mars have involved the use of compact laboratory equipment to analyze the content of materials collected on the Red Planet, nothing can compare to the level of scrutiny such samples could be put under if scientists were to have direct access to them here on Earth.
Actually fetching samples directly from Mars however is no easy task, especially given the number of steps involved and the possibility for something to go wrong at any stage of the mission.
As things stand, the plan will be to first have the upcoming Mars 2020 rover collect samples of rocks and soil on the Martian surface, then package them up in small sealed metal tubes.
"Caches of these tubes will then be left at designated sites on the Martian surface," said Sanjay Vijendran of ESA's Mars Sample Return team.
A second rover built by ESA will then be sent to the Red Planet where it will trundle across the surface and gather up these sample caches before taking them to a waiting US rocket.
The rocket will blast the samples up into space where a robotic spacecraft will collect them. After returning to Earth, it will release the samples in a capsule that will land in the Utah desert.
One of the most important aspects of the mission will be to ensure that the samples don't contaminate our own planet with any alien parasites like something out of
The X-Files
.
To this end, the samples will be kept at Biosafety Level 4 containment facilities at all times.
"It is extremely unlikely that we will bring back living organisms, and even if we do, it is unlikely they will be harmful," said Vijendran. "However, we cannot take that for granted, and every measure to make sure the samples are sealed and pose no threat to the planet will be taken."
If all goes to plan, the samples will provide scientists with a vast wealth of information about Mars.
There is even the possibility that they will contain the fossilized remains of microbial life forms.
Source: The Guardian | Comments (11)
Similar stories based on this topic:
Tags: Mars