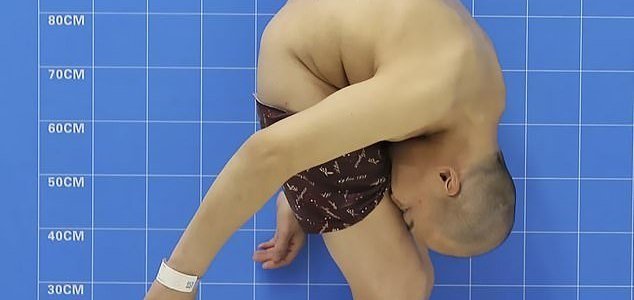 Li was unable to straighten up at all.

Image Credit: Shenzhen University General Hospital
A man with an extreme spinal condition was left so bent over that his face was pressed up against his legs.
46-year-old Li Hua from China's Hunan Province was originally diagnosed with the condition - which is known as
ankylosing spondylitis
- at the age of just 18 but was unable to afford treatment.
As a result, his posture became progressively worse and worse until he was so hunched over that his head was literally upside-down and permanently pressed up against the front of his thighs.
Fortunately however, after enduring this horrific condition for the better part of 28 years, Li has finally received the help of doctors at Shenzhen University General Hospital.
"Our only option was to break his bones one section at a time - femur, cervical vertebrae, thoracic vertebrae, lumbar vertebrae - and then straighten his entire spinal column," said Prof Huiren.
"The risks involved were 20 to 30 times that of a regular spinal surgery patient, and the chances of him becoming a paraplegic were also very high."
As luck would have it, after an extensive series of risky operations, Li's back was finally straightened up and he was soon able to take his first tentative steps with the help of a walking frame.
Doctors believe he will regain his ability to walk naturally within two to three months.
"Of course he won't be able to do anything too extreme like boxing or playing tennis, but all regular bodily movements will not be a problem," said Huiren.
Source: Lad Bible | Comments (9)
Tags: Folding Man