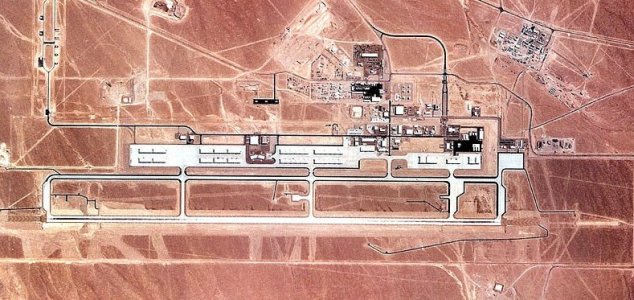 The base as it appeared back in 1990.

Image Credit: United States Air Force
A number of unidentified aircraft have been spotted next to hangars at Tonopah Test Range Airport in Nevada.
Located at the northern edge of the Nevada Test and Training Range, Tonopah is not as well known as Area 51 but has itself been used to test a number of secretive experimental aircraft over the years.
Originally used to conduct flights of captured MiGs, the base was also involved in test flights of the Lockheed U-2 strategic reconnaissance aircraft, among others.
But what has the US Air Force been flying out of Tonopah in more recent years ?
Writing for
The Drive
, defense expert and author Tyler Rogoway recently acquired and published satellite images showing several identical, unidentified aircraft protruding from the hangars.
The image was taken by a Planet Labs' PlanetScope satellite on December 6th, 2019.
We are unable to publish the image directly however you can view it -
here
.
According to Rogoway, these particular hangars, which were originally built to house F-117's, contain at least one secretive aircraft that has been previously spotted on more than one occasion.
This particular image is unique because it shows an unusual level of activity.
It remains unclear exactly what this aircraft could be, however Rogoway speculates that it could be a derivative of the RQ-170 Sentinel or the US Air Force's secretive unmanned combat air vehicle.
Whatever the case, something interesting is clearly still being flown out of the base.
Source: The Drive | Comments (23)
Similar stories based on this topic:
Tags: Area 51, Black Project