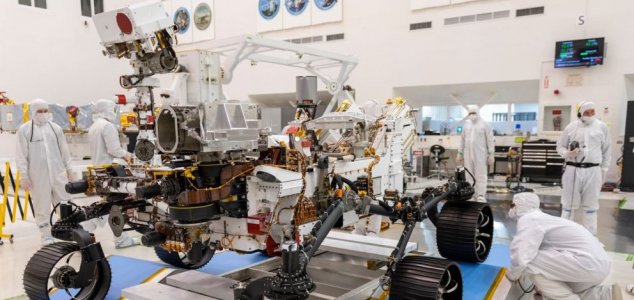 The rover has undergone successful testing.

Image Credit: NASA / JPL-Caltech
NASA has confirmed that it has almost completed work on its upcoming robotic Mars exploration rover.
A follow-up to the space agency's Curiosity rover which has been trundling around on the Martian surface since 2012, the still-unnamed Mars 2020 rover looks very similar to its predecessor.
Inside however, it has been equipped with several new additions including a helicopter drone and new scientific instruments designed to search for evidence that Mars was habitable in the distant past.
The rover will also be tasked with collecting samples of soil and leaving them in special caches for a future rover to come and retrieve as part of an ambitious sample-return mission.
In February, the Mars 2020 rover will be shipped to Florida's Kennedy Space Center where it will be fully assembled ahead of its launch from Cape Canaveral's Air Force Station in July.
Its destination will be Jezero Crater - home to pristine sediments dating back 3.5 billion years.
"The trick, though, is that we're looking for trace levels of chemicals from billions of years ago on Mars," said Mars 2020 deputy project manager Matt Wallace.
"Once we have a sufficient set, we'll put them down on the ground, and another mission, which we hope to launch in 2026, will come, land on the surface, collect those samples and put them into a rocket, basically."
Most recently, the rover accomplished a series of rudimentary movement tests designed to ensure that its systems are all operating properly.
"Mars 2020 has earned its driver's license," said lead mobility systems engineer Rich Rieber.
"The test unambiguously proved that the rover can operate under its own weight and demonstrated many of the autonomous-navigation functions for the first time."
Source: Independent | Comments (19)
Similar stories based on this topic:
Tags: Mars, Rover