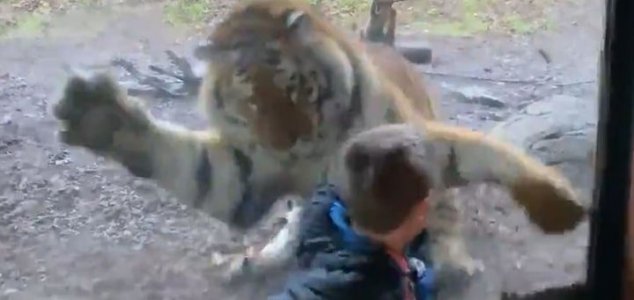 Not your average day out at the zoo.

Image Credit: Twitter / @r0bc
One young zoo visitor recently got quite a scare when a tiger came charging towards him behind a glass wall.
The incident occurred approximately one week ago at Dublin Zoo, Ireland where the boy (Sean) and his family had been enjoying a day out watching the animals.
Things took a rather unusual turn however when the youngster's father asked him to stand in front of the tiger enclosure so that he could get his picture taken with the animal in the background.
As Sean turned to face the camera, the big cat suddenly charged at him and pounced. If it wasn't for the zoo's glass enclosure, the tiger would have no doubt had itself a meal.
Footage of the encounter has since racked up over 2.2 million views on Twitter.
Reactions to the video have been mixed, with some finding the incident amusing and others criticizing the fact that the tiger was in the zoo in the first place.
There have also been concerns over what would have happened if the glass had broken.
One thing's for sure, it's a day out that Sean is unlikely to ever forget.
You can check out the video for yourself below.
Source: Fox News | Comments (7)
Similar stories based on this topic:
Tags: Tiger, Zoo