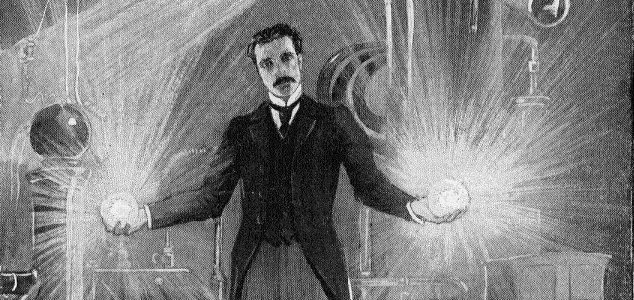 Nikola Tesla was a genius of his time.

Image Credit: Warwick Goble
Inventor and scientist Nikola Tesla had more than a passing interest in Egypt's archaeological wonders.
There are few people who have contributed more to the widespread implementation of electricity in the modern world than Tesla - a man whose accolades range from pioneering the use of alternating current to conducting experiments designed to transmit electricity wirelessly through the air.
Back in 1905, he submitted a patent entitled '
The art of transmitting electrical energy through the natural medium
', which was founded on his belief that the Earth itself is a giant electrical generator that could be harnessed to provide practically limitless amounts of electricity.
Among his key inspirations were the Pyramids of Giza - something that Tesla had found endlessly fascinating. He believed that these ancient structures were themselves giant transmitters of energy and looked to them when putting together his own designs.
His wireless test facilities, such as the Tesla Experimental Station in Colorado Springs and the Wardenclyffe Tower on the East Coast, were reportedly inspired by the locations of the pyramids.
Tesla had also exhibited an obsession with the numbers 3, 6 and 9 to the point where he would reportedly drive around a building 3 times before entering and would only stay in hotels with numbers divisible by 3. He would also make many of his day-to-day choices based on these same principles.
While today it is generally accepted that Tesla's wireless power scheme would never have worked, there are still some who subscribe to his theory that the pyramids are transmitters of power.
It remains to be seen however whether Tesla's beliefs in this regard will ever actually be proven true.
Source: Big Think | Comments (5)
Tags: Nikola Tesla