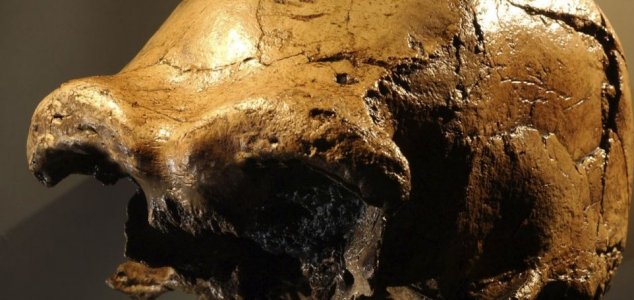 A partial Homo erectus skull.

Image Credit: CC BY-SA 3.0 Commie cretan
One of our ancient ancestors held on for so long that it was still around when modern humans arrived on the scene.
Believed to have been the first human species to walk upright, Homo erectus (or 'upright man') first appeared around two million years ago and was the direct ancestor of several human species.
Despite its relatively primitive nature however, this prehistoric hominin managed to survive for a remarkably long period of time and now, according to a new study, Homo erectus may have even walked the Earth at the same time as modern humans as recently as 100,000 years ago.
The discovery is based on a renewed analysis of a site along the Solo River at Ngandong in central Java where a number of partial Homo erectus skulls were found back in the 1930s.
"This is a very comprehensive study of the depositional context of the famous Ngandong Homo erectus partial skulls and shin bones, and the authors build a strong case that these individuals died and were washed into the deposits of the Solo River about 112,000 years ago," said Prof Chris Stringer of London's Natural History Museum.
"This age is very young for such primitive-looking Homo erectus fossils, and establishes that the species persisted on Java for well over one million years."
The researchers believe that the individuals whose remains were discovered at the site died after a violent wave of slurry washed downriver due to heavy rains following a volcanic eruption.
Despite this however, the species as a whole appeared to have clung on in the region hundreds of thousands of years after it had disappeared from China, Africa and other parts of the world.
It is likely that Java's isolated location played an important role in Homo erectus' longevity there.
Source: BBC News | Comments (10)
Tags: Homo Erectus, Humans