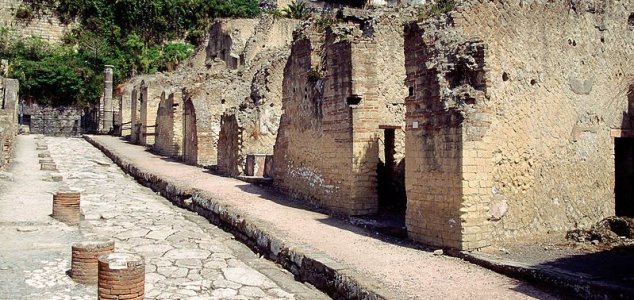 The ruins of Herculaneum as they appear today.

Image Credit: CC BY-SA 2.0 Greg Willis
This dire fate awaited the residents of Herculaneum when Mount Vesuvius erupted in the year 79.
It is perhaps the best known volcanic disaster in history - a catastrophic event that buried countless thousands under huge amounts of choking ash and most famously, the entire Roman city of Pompeii.
Now a new study which focused on the nearby town of Herculaneum has, for the first time, revealed the extreme destructiveness of the volcano's pyroclastic flow on those caught within its radius.
It was enough to boil blood, vaporize flesh and also, according to researchers, turn brains into glass.
Finding a preserved brain dating back thousands of years is a rare thing at the best of times, but when scientists examined the remains of a man's brain from the volcanic disaster, they discovered that it had been turned into a charred black material reminiscent of glass.
As many as 300 people had hidden in boathouses to escape the eruption only to be exposed to so much intense heat and pressure that their heads literally exploded.
The room they had been hiding in had reached an insane 520 degrees Celsius, vaporizing most of the body and leaving behind skull fragments coated with vitrified brain tissue.
The find serves as a stark reminder of the hellish conditions that these poor people were subjected to.
Source: Live Science | Comments (1)
Tags: Vesuvius