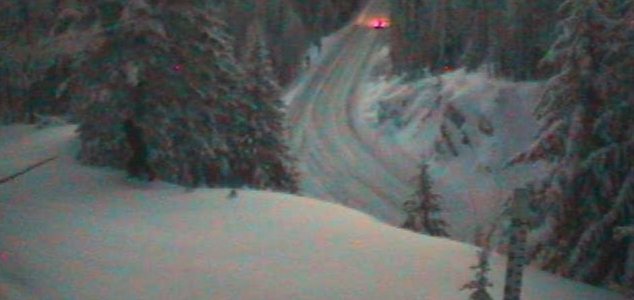 The 'Bigfoot' is visible in front of the trees on the left.

Image Credit: Twitter / WSDOT East
A mysterious figure was recently captured on camera by Washington state's Department of Transportation.
In a Tweet posted up on Wednesday, officials highlighted a webcam image taken of a particularly picturesque stretch of road in Sherman Pass which crosses the Kettle River Range in Washington.
The shot seems to show someone or something walking through the snow on the left-hand side.
"Sasquatch spotted!!!" the department wrote. "I'm not superstitious... just a little stitious. Have you noticed something strange on our Sherman Pass/SR 20 webcam before ?"
"If you look closely by the tree on the left there looks to be something... might be Sasquatch... We will leave that up to you!"
Sure enough, there does appear to be a figure in the image, however given that it is shrouded in shadow, it is difficult to determine whether it's simply someone walking or something else.
You can check out the Tweet, along with some close-ups, below.
Update: Sherman Pass webcam 'Bigfoot' mystery solved
.
Source: Oregon Live | Comments (61)
Similar stories based on this topic:
Tags: Bigfoot