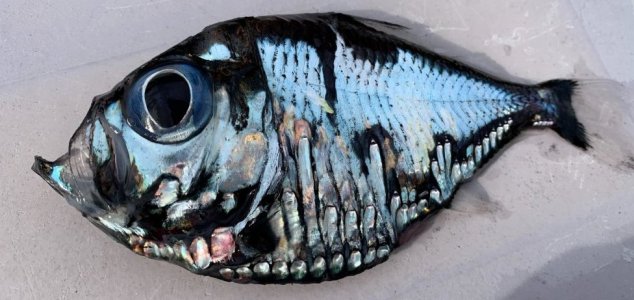 This is one strange fish.

Image Credit: Twitter / @sakuya_DomasH
A photograph of a rather unusual looking fish that was caught in Japan has recently gone viral on social media.
The image was originally uploaded on January 12th by a student named sakuya (@sakuya_DomasH) who had posted it up in order to ask if anyone else had any idea what it was.
The small fish looks particularly unique due to its distinctive shape and coloration and could almost be mistaken for a piece of artwork by Pablo Picasso, hence the nickname 'Picasso fish'.
Measuring 10cm in length, it was caught off the coast of Japan's Kozu Island.
The discovery ended up generating so much attention that it was picked up by a Japanese television station where an expert identified the species as
Polyipnus matsubarai
.
The original Tweet has since been shared nearly 10,000 times.
Source: Twitter | Comments (5)
Tags: Picasso Fish