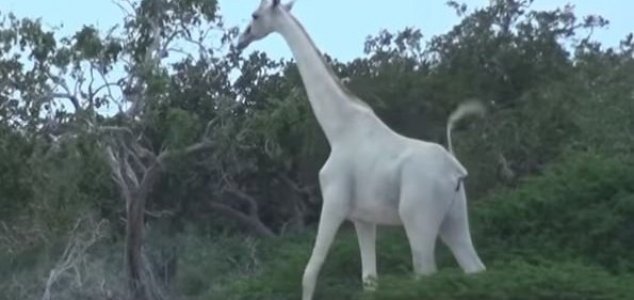 There is now only one white giraffe left.

Image Credit: YouTube / Hirola Conservation Program
Rangers in Kenya have solved the mystery of what happened to two of the last few remaining white giraffes.
Since August of last year, Kenya's Ishaqbini Hirola Community Conservancy had been home to three very rare giraffes suffering from leucism - a condition that causes a partial loss of skin pigmentation.
Several months ago however, two of them - a female and her calf - mysteriously disappeared without a trace, much to the puzzlement of the rangers who had been protecting them.
Now at last, the fate of the two missing giraffes has finally been determined and it's sad news - both animals had seemingly been killed by armed poachers shortly after they went missing.
"This is a very sad day for the community... and Kenya as a whole," said conservancy manager Mohammed Ahmednoor.
"We are the only community in the world who are custodians of the white giraffe."
An investigation is currently underway and it remains unclear exactly why the animals were killed.
As things stand, the one surviving white giraffe is likely to need round-the-clock protection.
Source: Live Science | Comments (19)
Tags: White Giraffe