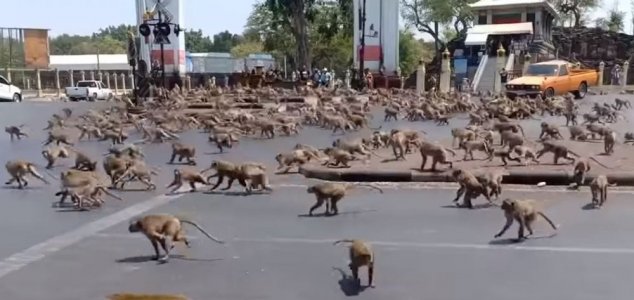 The streets are like a scene from Plant of the Apes.

Image Credit: YouTube / Sasaluk Rattanachai
The huge reduction in tourists due to the coronavirus outbreak has had some unexpected consequences.
Residents of Lopburi, which is situated to the north-east of Bangkok, are typically used to seeing crowds of tourists visiting the city's famous temples and taking photographs of the local macaques which are notorious for stealing food and getting up to all sorts of mischief.
Now though, with the country practically devoid of tourists due to the coronavirus pandemic, the streets of the city are now filled with crowds of starving monkeys forced to fight over scraps.
A recently released videos shows just how aggressive the pint-sized primates can get - pouncing on anything that even resembles food and fighting amongst themselves for the spoils.
"It's the summer, so usually we see a lot of tourists, but now because of the outbreak there's so few that the markets are very quiet," said Sasaluk Rattanachai, who posted the video.
"Not enough tourists come to leave food for the monkeys at Prang Sam Yod [temple]."
The scene demonstrates just one of the many indirect consequences of the viral outbreak.
Source: The Guardian | Comments (15)
Tags: Monkeys, Thailand