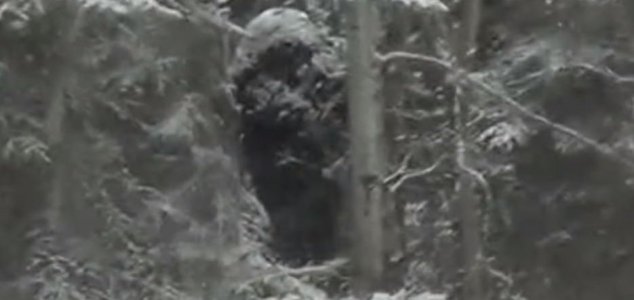 Is this Bigfoot, a dark gap in the trees, or something else ?

Image Credit: YouTube / Sonny Vator
New footage has emerged which claims to show a large bipedal creature standing among trees at the roadside.
Shot 30 miles east of the Banff Park boundary near Nordegg, Alberta, the short clip was recorded by an oilfield worker who had been driving along when he picked up something at the side of the road.
According to the accompanying description, he hadn't noticed anything unusual at the time and only discovered the anomalous figure when he reviewed the footage later for unrelated reasons.
The 'Bigfoot' itself is rather indistinct to the say the least - a dark, shapeless form visible between the trees that could just as easily be a patch of foliage or a gap between the branches cast in shadow.
Even so, the worker who captured the footage was quite convinced and even filmed himself returning to the same spot the next day to look for evidence that a creature had been there.
He found what appeared to be an area of branches and foliage where something large had been lying down, as well as a number of dark brown hairs and what looked like large footprints.
Given the questionable nature of the original footage it's difficult to jump to the conclusion that what he found was evidence of Bigfoot, however judging by his reactions there seemed little doubt in his mind that he had discovered something extraordinary.
You can check out the video for yourself below.
Source: YouTube | Comments (21)
Similar stories based on this topic:
Tags: Bigfoot