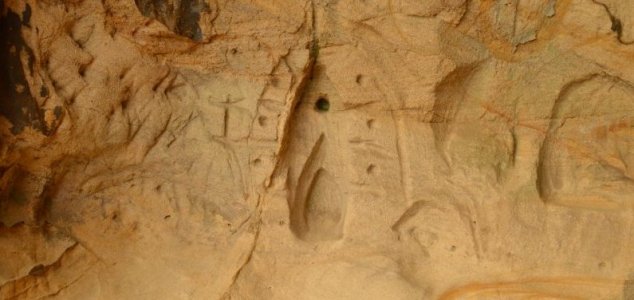 Image Credit: Twitter / UCL Archaeology South-East @ArchSouthEast
British railway workers have discovered a previously hidden cave that was exposed following a landslip.
The remarkable find, which has since been investigated by a team from UCL Archaeology South-East, is situated near Guildford, southern England and is thought to date back over 700 years.
Believed to be linked to the nearby medieval church of St. Catherine, the cave contains several niches that may have been used for worship as well as a Gothic shrine decorated with a Calvary cross.
Black soot marks on the ceiling and what appear to be fire pits on the cave floor also suggest that the people who once frequented its interior would have conducted their rituals by firelight.
"The old name for St Catherine's Hill is Drakehull 'The Hill of the Dragon,' so this has obviously been a site of ritual significance long before the construction of the church on the top of the hill in the late 13th century," said a spokesperson for UCL Archaeology South-East.
"Work is under way to [analyze] soot and charcoal found inside the cave, which will hopefully tell us more about how and when it was used."
Source: Fox News | Comments (0)
Similar stories based on this topic:
Tags: Cave, Shrine