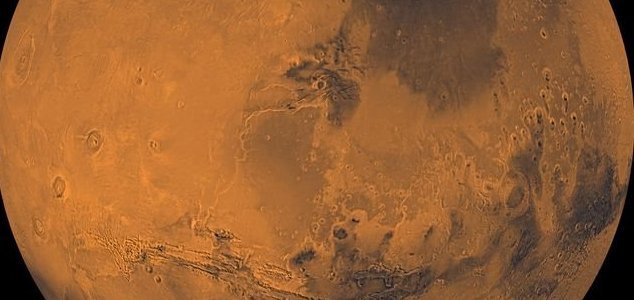 Could there be life on Mars ?

Image Credit: NASA / JPL-Caltech
A new study has indicated that salty water may be more common on the Martian surface than previously believed.
Mars may have once been home to rivers and oceans billions of years ago, but these days its surface appears to be completely inhospitable - a dry, freezing landscape with no sign of life anywhere.
That's not to say that there isn't any water at all however - in recent years scientists have determined that small pools of briny liquid may be able to survive on its surface for a limited period of time.
Now a new study, which involved modelling the Martian atmosphere, has discovered that such pools could be a lot more common than previously realized with up to 40% of the planet's surface being potentially able to support stable, salty water.
There is a downside however, as it turns out that such pools would need to be so cold in order to survive on the surface that they would never be able to support life.
"Even extreme life on Earth has its limits, and we found that brine formation from some salts can lead to liquid water over 40% of the Martian surface but only seasonally, during 2% of the Martian year," said study co-author Alejandro Soto from the Southwest Research Institute.
"This would preclude life as we know it."
This of course doesn't mean that life couldn't potentially exist elsewhere on Mars (such as in underground caves), nor that it couldn't have once existed there in the distant past.
Such pools will also be of great interest to scientists during future exploratory missions.
Source: Independent | Comments (0)
Similar stories based on this topic:
Tags: Mars