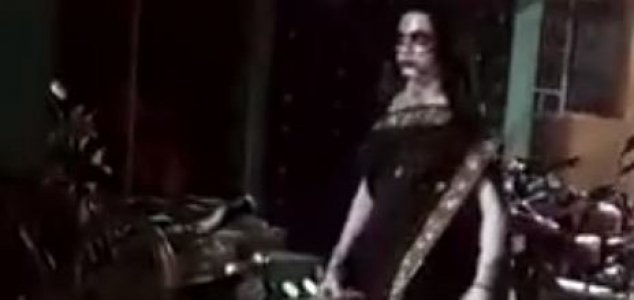 You wouldn't want to run into her on a dark night...

Image Credit: Twitter / Ashok Mahapatra
A ghostly costumed figure has been scaring residents into staying indoors in the Indian village of Odisha.
Back on April 17th, we covered the story of volunteers dressing up as ghosts in Indonesia's Kepuh village in an attempt to scare people into complying with the coronavirus lockdown restrictions.
It's an idea that seems to have been getting around, as it has since been reported that a woman in India has been doing pretty much the same thing while dressed up as a specter.
With long black hair, chalk-white skin and a black flowing sari, the woman has turned more than a few heads recently and according to reports, has proven quite effective at eliciting compliance.
She was allegedly hired by the village council to help support efforts to enforce lockdown.
"This does seem like a scene from a comedy horror film!" said film director Madhureeta Anand.
"Full marks for creativity to the person who thought about this. We also need to educate people so that they do not take the pandemic lightly and do not fall for rumors."
Source: Hindustan Times | Comments (7)
Similar stories based on this topic:
Tags: Ghost, India