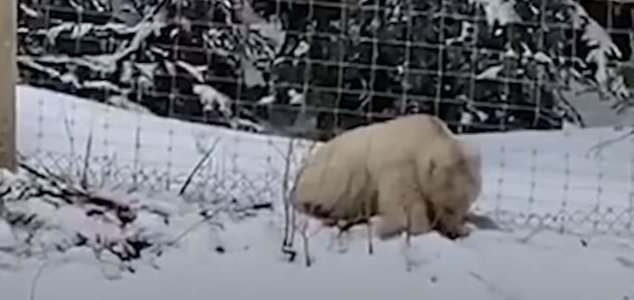 Image Credit: YouTube / Guardian News / Facebook / Rimrock Resort Hotel
A very unusual bear has been captured on film in Banff National Park in Canada's Rocky Mountains.
At a glance you might be forgiven for thinking that this young bear is little more than a polar bear, however as it turns out, this unusual animal is actually a genuine grizzly bear, not with albinism as might be expected, but with a recessive gene that has given its coat a distinctive shade of white.
It was recently spotted by a family who had been out for a drive along a remote stretch of highway.
"For us, it was a once-in-a-lifetime opportunity," said Cara Nelson, who recorded the footage.
"Which is probably the only reason we decided to slow down and take a little bit of video of it, because normally we could come across bears on a regular basis."
Photographs and video clips of the bear have since gained a lot of attention on social media.
"The sub-adult grizzly and its sibling are known to Parks Canada and have been spending their time between Banff and Yoho national parks in Canada," Parks Canada said in a statement.
"These grizzlies are believed to be about 3.5 years old and this will be their second year away from their mother. The unique white color is believed to be caused by a natural color phase variation."
"Grizzly bears are typically brown, black or blonde, however there have been records of grizzly bears with a white color phase variation. This is unusual for grizzly bears but has been seen before."
Source: Independent | Comments (3)
Similar stories based on this topic:
Tags: Bear