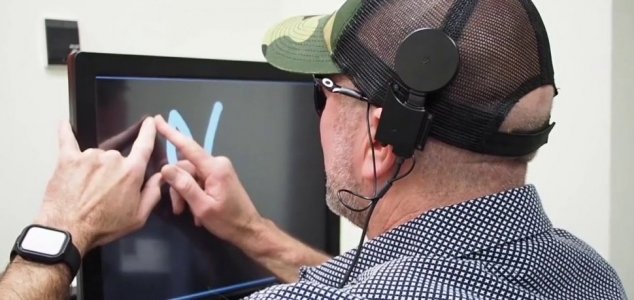 A participant demonstrates the letter he has received via electrodes.

Image Credit: YouTube / Science News
Scientists have found a way to communicate letters and shapes by 'tracing' them directly into the brain.
Enabling the visually impaired to see again has long remained one of the holy grails of medical science, but while restoring vision through the eyes may not be possible for some, it seems that directly communicating images to them through their brain might actually be a viable alternative.
In a new study, a team of researchers led by Michael Beauchamp of Baylor College of Medicine in Houston successfully managed to communicate the shape of various letters to blind participants by delivering a specific series of electrical signals through electrodes implanted in their brains.
So far the system has only been used to communicate certain letters of the alphabet, however it should be possible to also portray basic shapes and outlines as well.
In the future, a method such as this could help blind people to see again by using an external camera to analyze what's in front of them and then stimulating the brain to induce relevant shapes and forms.
One day, it may even be possible to provide fully restored vision to someone who is totally blind, as well as to send images and other information directly into the brain of anyone who can receive it.
Brain-computer interfaces, it seems, are going to be a very big deal in the not-too distant future.
Source: Science News | Comments (2)
Similar stories based on this topic:
Tags: Brain, Blind