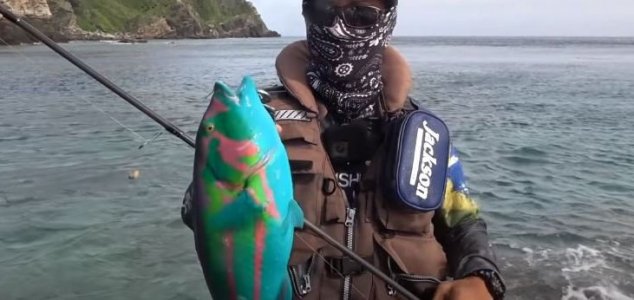 This is one strange looking fish.

Image Credit: YouTube / Fishing Gang Azusa
The team behind a Japanese fishing YouTube channel recently posted up images of their latest peculiar catch.
Looking more like something out of a cartoon or video game than an actual real-life animal, this incredible bright blue, green and pink fish was caught last week by the folks over at
Fishing Gang Azusa
- a Japanese fishing channel that has been running for around three years.
The unique catch soon attracted a lot of attention after the team posted up images of it on Twitter.
Skeptics questioning the authenticity of the pictures soon changed their tune after being redirected to the original video which shows the fish being caught, reeled in and then released back into the sea.
It turns out that the fish, far from being a fake, is a very real species known as a surge wrasse (or
Thalassoma purpureum
) which can be found in the waters of the Atlantic and Pacific oceans.
While not a typical target of commercial fishing, it has proven a popular inclusion in aquariums.
Source: YouTube | Comments (10)
Similar stories based on this topic:
Tags: Fish, Japan