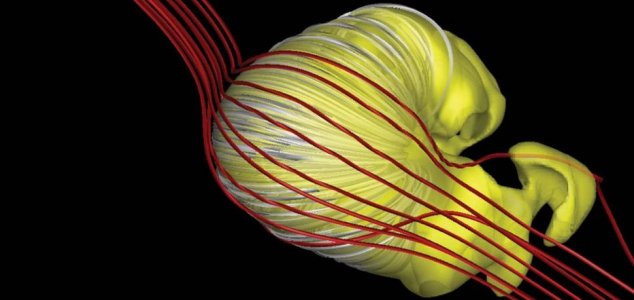 Could this really be the shape of our solar system ?

Image Credit: Opher, et al.
Scientists have determined the most likely shape of the heliosphere which surrounds the solar system.
Generated by the Sun, this vast protective region is made up of charged solar particles and magnetic fields which block some of the highly energetic cosmic rays coming from interstellar space.
For a long time, scientists believed that the heliosphere was most likely comet shaped with a rounded leading edge, but now a new study has cast doubt on this idea - instead suggesting that the shape of this protective region may be far more strange and chaotic than previously realized.
According to the team, the heliosphere may in fact resemble a giant deflated croissant.
Determining its shape is certainly not easy, especially given that only two spacecraft - Voyager 1 and Voyager 2 - have actually sampled the edge of it directly, leaving little data to work with.
For the new study, scientists decided to derive the shape of the heliosphere through other means, such as by studying measurements of galactic cosmic rays coming from deep space.
They also looked at 'pick-up ions' (which are carried along by the solar wind) as measured by NASA's New Horizons Pluto probe.
At the end of the day, understanding the shape of the heliosphere is particularly beneficial, especially as it enables scientists to better map out which regions of space are protected from galactic cosmic rays - something that could prove invaluable when planning future space missions.
It also helps to provide a better understanding of the solar system in general.
Source: Space.com | Comments (10)
Similar stories based on this topic:
Tags: Solar System