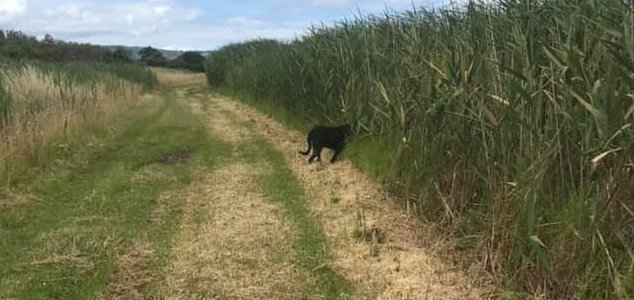 Is there a panther on the loose near Melbourne ?

Image Credit: Facebook / Michael Corr
A Melbourne carpenter has posted up a photograph he took of a large black cat near the Mornington Peninsula.
36-year-old Michael Corr had been walking with his young son through the Tootgarook wetlands to the south-east of Melbourne on January 14th when he caught sight of a large black animal.
Grabbing his phone, he managed to snap a picture before it disappeared into the reeds.
He quickly realized that what he had seen was no ordinary feline.
"I just thought that's the biggest cat I've ever seen and it was just crossing the tracks as if it was stalking something," he said. "My son ran in the other direction. We've been down there before and heard things rustling in the reeds but had never seen something like this."
"I know feral cats get big but it possibly could of been something else as there are stories that go way back about panthers in the wild in Australia left from the travelling circus and also from World War 2."
After returning home, Corr decided to upload the photograph to a number of Facebook pages and groups dedicated to sightings of large exotic cats in Australia.
He received hundreds of comments including many from others who had seen a similar creature.
Such reports are not uncommon - back in August, a woman from Queensland claimed that a panther had attacked her dog (for the second time) in the town of Jensen.
She also claimed to have seen a panther carrying a baby panther in its mouth.
You can view a full-sized photograph of the creature Michael Corr saw -
here
.
Source: Mail Online | Comments (44)
Tags: Alien Big Cat, Australia