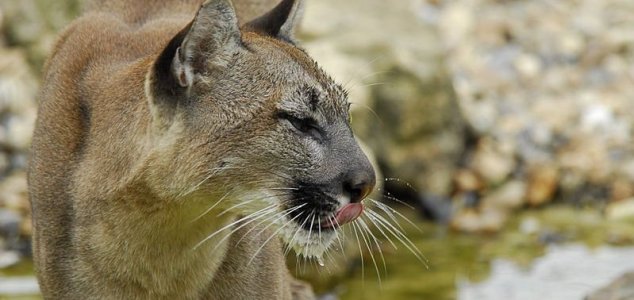 There have been many sightings of pumas in the UK.

Image Credit: CC BY-SA 3.0 Adrian Herridge
A zoo owner has come forward with information that could help to explain the alien big cat phenomenon.
For years there have been reports of exotic cats roaming the British countryside and now the current owner of Dartmoor Zoo believes that he may have an explanation.
Benjamin Mee, who is himself currently searching for an escaped lynx called Flaviu, claims that several sources point to the release of three pumas from the zoo after it closed in 1978.
The story goes that circus owner Mary Chipperfield had been transporting five pumas after her zoo was forced to close and that, rather than taking them all to their new home, she released three of them - including a breeding pair - in to the wild.
"Puma were released in the Sparkwell area in the 1980s and there were many sightings of puma in this area up until 2010," said Mee. "I even saw one when I first came here in 2006. They used to come out into the village. I saw one by a crossing."
The story remains difficult to corroborate and while it doesn't directly explain accounts of other types of exotic cats such as panthers in the UK, it could certainly help to explain sightings of pumas.
"The farmers don't want the publicity and wouldn't tell you this if you asked but there were a lot of animals lost to the pumas during those years," said Mee.
"I think two whole generations of pumas managed to live on the moor until the winter of 2010."
Source: AOL News | Comments (13)
Tags: Alien Big Cats, Beast of Bodmin