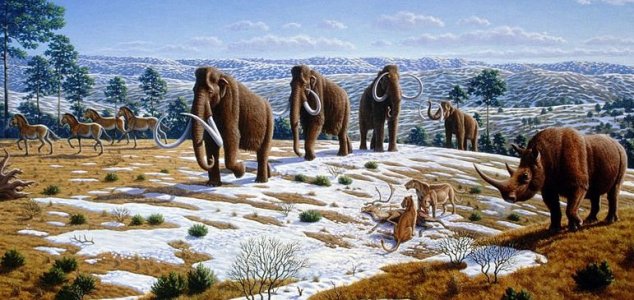 The DNA has lifted the lid on Siberia's mammoths.

Image Credit: CC BY 2.5 Public Library of Science
Scientists have extracted DNA from the teeth of mammoths that roamed the Earth 1.2 million years ago.
The prehistoric DNA samples, which were recovered by scientists from Sweden, far exceed the age of the 700,000-year-old DNA samples previously recovered from ancient horse remains.
The 1.2 million-year-old DNA was extracted from the teeth of three separate mammoth specimens that had been unearthed in the Siberian permafrost all the way back in the 1970s.
"This is by a wide margin, the oldest DNA ever recovered," said Prof Love Dalen - an evolutionary geneticist from the Center for Palaeogenetics in Stockholm.
While it might not be Jurassic Park, the accomplishment is nonetheless highly significant because it teaches us much about these long-extinct ancestors of today's elephants.
For example, it was previously believed that only one species of mammoth - the Eurasian steppe mammoth - roamed Siberia during the Pleistocene epoch around 2.5 million years ago.
The DNA however has since revealed that there may have in fact been two distinct genetic lineages.
As for whether the samples can be used to create new woolly mammoths in a lab - that is still very much the stuff of science fiction, however perhaps one day such a feat will actually be possible.
In the meantime, we will have to be content with what this discovery can teach us about these iconic prehistoric giants.
Source: Sky News | Comments (3)
Similar stories based on this topic:
Tags: Mammoth, DNA