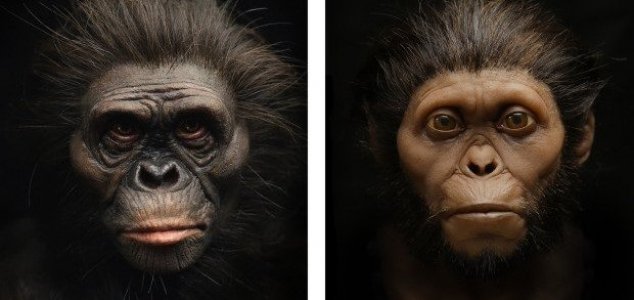 Lucy (left) and Taung child (right).

Image Credit: R. Campbell, G. Vinas, M. Henneberg, R. Diogo
Scientists have painstakingly recreated the faces of two of our earliest ancestors dating back millions of years.
When paleoanthropologist Donald C. Johanson first discovered the fossilized bones of an early hominin species dating back 3.2 million years while on an expedition in Ethiopia, the find was celebrated as one of the most significant palaeontological discoveries ever made.
Named 'Lucy', this ancient ancestor of modern humans belonged to a species known as Australopithecus afarensis - a primitive ape-like biped with long arms and curved fingers.
While there have been many attempts over the years to reconstruct what Lucy might have looked like, many of the artists have made unverifiable assumptions about certain physical attributes, resulting in impressive, yet often inaccurate representations of her appearance.
This latest effort however is not only the most accurate to date but also the most transparent - revealing precisely how researchers created it and what assumptions were made.
The image (above) also includes a reconstruction of another ancient human specimen - an individual named 'Taung child' who was discovered in South Africa and dates back 2.8 million years.
These faces represent an intriguing look at the faces of our ancestors and serve as a window back to a time when our progenitors were not that unlike the great apes we see today.
It's a poignant reminder of just how far our species has come over the last few million years.
Source: Live Science | Comments (5)
Similar stories based on this topic:
Tags: Human, Lucy