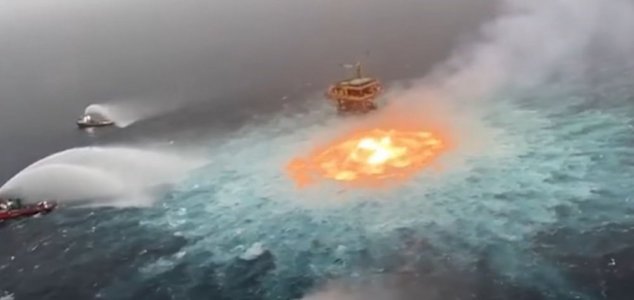 Firefighting vessels tackled the blaze.

Image Credit: Twitter / Manuel Lopez San Martin
A ruptured gas pipeline in the Gulf of Mexico saw a veritable inferno erupt from the water's surface.
At first glance, footage of the incident - which was filmed in the offshore Ku-Maloob-Zaap oil field - looks like something out of a science-fiction movie, with the ocean bubbling in an inferno of fire.
In actual fact, however, the video is entirely genuine - capturing the scene of a ruptured pipeline situated around 150ft from one of Petroleos Mexicanos' oil drilling platforms.
Fortunately nobody was injured, however the amount of environmental damage caused by the accident may not become fully apparent for some time.
The leak was ultimately brought under control within around five hours.
"The incident was dealt with immediately when the security protocols were activated and with the accompaniment of nearby firefighting vessels such as Santa Cruz Island, Campeche Bay and Bourbon Alienor," the firm said in a statement.
"In addition, the interconnection valves in the pipeline were closed, extinguishing the fire and the gas release, ending the contingency around 10.45am and restoring normal operating conditions."
Source: Herald Scotland | Comments (13)
Tags: Pipeline