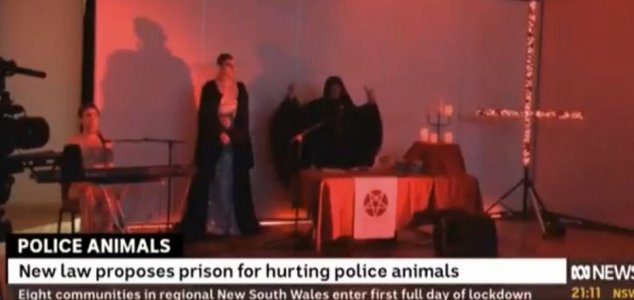 How did this end up in a news report about animal welfare ?

Image Credit: ABC News
A news report in Australia was unexpectedly interrupted recently by some sort of strange satanic ceremony.
Continuity errors, editing gaffes and other mistakes are not that uncommon during news broadcasts, however a recent ABC News segment about new animal welfare legislation was unexpectedly interrupted by a clip of something so unusual that it's hard to believe that it actually happened.
The peculiar cutaway, which lasted only around two seconds, showed what looked like a satanic ceremony with a robed figure chanting "hail Satan" in front of an illuminated, upside-down cross.
The news segment then immediately switched back to the studio presenter who, after a brief pause, continued reading out the news as if nothing had happened.
A closer look at the two-second clip shows what looks like a studio with a camera on the left, a woman sitting in front of a piano keyboard and another individual dressed in some sort of gothic robes.
We can only guess as to what was going on and how this ended up in the ABC News report.
Source: Huffington Post | Comments (48)
Tags: Satan