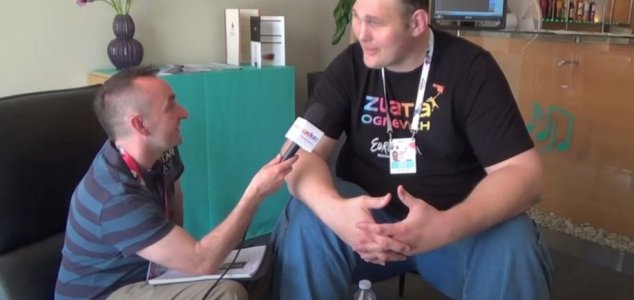 Igor towered over everyone he met.

Image Credit: YouTube / ESCKAZ.com
Officially America's tallest man, Vovkovinskiy was well known for his enormous size and gentle demeanour.
Standing a whopping 7 feet, 8 inches tall, Igor was born in the Ukraine in 1982 but moved to the United States in 1989 so that his family could seek medical treatment for his brain tumor.
The tumor, which was situated in his pituitary gland, caused him to secrete greater than normal levels of growth hormone, thus explaining how he managed to reach such an enormous size.
Described as a gentle giant, Igor attracted the attention of millions of fans worldwide, in particular after being photographed wearing a "World's Biggest Obama Supporter" shirt at a rally in 2009.
The following year, he was officially recognized by Guinness as America's tallest man.
"It feels good to finally have proof that I am the tallest man in America," he said at the time. "Everyone is always asking me if I'm certain that I'm the tallest and I was never able to prove it."
"Now that I have this certificate to hang on my wall, I could finally show it!"
Sadly, at the age of 38, he ultimately succumbed to heart disease caused by his condition.
"Igor died on August 20 at 22:17 pm in hospital from heart disease," his mother wrote. "He and his older brother Oleh were with him until the end. His last dinner was: a piece of Kyiv cake and Fanta."
Source: MSN.com | Comments (2)
Tags: Igor Vovkovinskiy