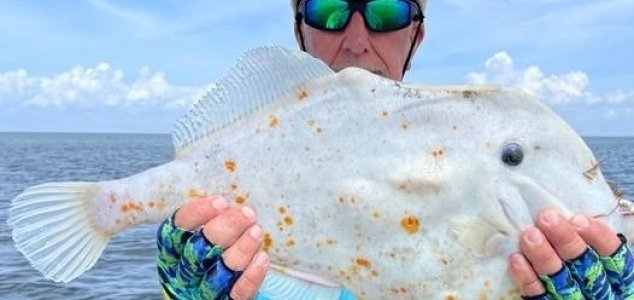 This fish looks good enough to eat.

Image Credit: Thomas Bosworth
When Tom Bosworth fished up this peculiar specimen earlier this year, he had no idea what it was at all.
The Florida angler couldn't quite believe what he was seeing when he reeled in the odd-looking fish - which resembled a flour tortilla - during a fishing trip in Tampa Bay back in March.
"What the heck is that ?" he said at the time.
"There's 200 species of fish out in Tampa Bay and that's one of the stranger ones I ever caught."
The peculiar fish measured about 22 inches in length.
Neither of the two friends he had been fishing with could identify the fish either, leaving a mystery that would endure for several months.
It wasn't until a photograph he had taken of the catch was featured by the Florida Fish and Wildlife Conservation Commission (FFWCC) that the mystery of the fish was finally solved.
"What do you do when you pull up a fish you didn't intend to catch?" the commission wrote. "That's what happened to Thomas Bosworth recently when he caught this beautiful orange filefish."
"This fish is a marine life species, meaning they are typically caught by divers to sell in the aquarium trade and must be kept alive in an aeriated livewell or bucket until they reach their aquarium destination."
Source: Live Science | Comments (0)
Similar stories based on this topic:
Tags: Fish