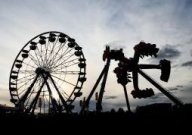 Modern life
Posted on Sunday, 18 July, 2010 |

1 comment
Columnist:

Jann Burner
Watching television and movies, reading books and magazines, as well as observing people in the street, I can almost see a spiritual power sculpting the human entity; turning it first this way and then that way, pushing in at one point, pulling, stretching and stressing points and aspects here and there. Meanwhile, we humans continue to strut about the stage and see things as individual threats or rewards or phenomena, isolated and interesting but utterly disconnected one from the other. We fail to recognize even the simplest patterns. We seem utterly unconcerned as well as unconscious of the fact that we are being turned upon a heavenly lathe.
We are like spiders, we pass from one spot to another and we leave a trail of our intent and our expectation. It is the beginning of our "web". At first we may rationalize it as a "bridge", it facilitates our getting from one place to another, but we do not stop there. Soon we have a full blown intricately created web of our intention: our DRAMA! And soon we become trapped within this dream web. We become the fly and fall to playing victim, forgetting that we are not only The Fly, we are also The Spider who created the web in the first place! We call this, Reality.
Life in human form is a change stage; a zone of opportunity in which the brain is used much the same as a starter engine for a jet aircraft. We use the brain to activate and access the Mind when in material form. But, if we refuse to utilize this option, and uses the brain merely as a maintenance computer for the body, then we lose the opportunity to change and to grow. It is difficult if not impossible for the entity to change and to grow in a non corporeal state because it is within a timeless dimension. In order to grow, one needs to operate within a specific zone of time, the same as, in order to expand a muscle, one needs gravity to push against. This is why there is such pressure to appear in this earth frame. Life within a gravitational field, within a time zone is like Nautilus training for the Mind.
The true nature of the universal mind will not become evident until left and right halves of the brain are working together: again. In that mode the ego will seem to fade like a thin layer of smoke and the personal "I" will take up a position in the moment, positioned exactly between the two halves of the brain. It will be at this exact position that the two beams, projected from the holographic over-mind, will intersect and create focus.
Recently there seems to be a generation (or two) of hollow men and glitzy women who seem to be all surface and appearance. Scratch the surface and you hit bottom, or rather you hit the hollow interior, like a cheap chocolate Easter rabbit. Tasty, but not too nutritious and after all hollow in the middle! Money gatherers to the exclusion of all else, including family and self. Large increase in teenage suicide could be a pointer that all is not well in Eden, in Happy Valley Estates. They call them narcissistic, but I say they don't even know the meaning of the word or they would be really self-obsessed, with the world, the universe, themselves, like co creators; artists; like Godlings in training. Not like pop up ads and magazine spreads; it's so...silly. No adult role models, no humans on the horizon. The bureaucratic charge card plastic fantastic American presents an image of success and control but beneath this surface impression there are signs of serious strain and mental imbalance among the Three Button Brotherhood and the Pop Tarts.
And the saddest thing is that the kids are scared! They don't know, can't know, that there are a sizeable number of very intelligent, creative, conscious adults out there working away quietly, waiting their turn. The media ignores this, as if all the brightest and best have self-destructed or turned into "thing junky/credit slaves". The kids don't know this is untrue and believe that they are locked in the world with the Death Toys and the Air Heads in three button suits. Glitzy women, hollow men and satellite television: the credit card mythology: America 2010.
We should not leave the sculpting of young males and females to MTV, Rap Music, R rated movies and Reality Television. It is unfortunate that mom and dad have given up the mentor role. This is truly an exciting time in the course of human development. It is unfortunate that so many of our most creative individuals have chosen the role of robo-drone/thing junky/credit slave. The magic to be found in this life is not liable to be encountered on EBay. We raise our children like neglected pets. Unfortunately there is no S.P.C.A. to look after their welfare. If the next generation should turn out to be truly rabid, we should not be too shocked. We had the option; we cut the deal, we made the trade.
Article Copyright© Jann Burner - reproduced with permission.