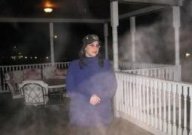 My Preston Castle ghost story
Posted on Wednesday, 11 August, 2010 |

2 comments
Columnist:

Paul Dale Roberts
Gwen Bohdan Johnson: There are just too many ghosts in the city of Ione for me to keep track of. I won tickets to see Sister Swing (an Andrew Sisters-style female vocal trio backed by the Delta Breeze Jazz Orchestra) at Preston Castle tonight. Preston Castle is a huge historic building in Ione that was once the site of Preston Correctional Youth Facility. The building has fallen into a state of major disrepair; the youth facility has since been moved to a modern building down the street. Tonight's concert was a fund-raiser for the Preston Castle Foundation to earn money to help get some of the needed repairs done to the original site.
Preston Castle is notorious for its many ghosts, the most famous being a housekeeper named Anna Corbin who was brutally murdered in the 1950s. There are numerous other tales of wards who had died in the infirmary, and others who for one reason or another never made it out of the monstrous Gothic brick building alive. Country music fans might recognize the name of one of the previous wards - Merle Haggard - who spent a few of his teenage years at Preston.
I took Caith to see tonight's concert, but the doors didn't open until 6 p.m. and we got to Ione around 5:15, so we stopped at Clark's Corner (my favorite coffee house in Ione) for a blended white mocha before the show. We noticed that they were selling Quinta de Amador wine, which is a new winery in Amador County headed by Kevin Smith, who we knew back when he worked for Willow Creek Winery. Caith and I decided we would come back to Clark's after the show to pick up a few bottles; we didn't want to buy them before the show because they would have had to sit in the hot truck for several hours, and that's not a good thing to do to wine.
When we finally got to the castle and stepped past the entrance, we noticed the Preston Castle Foundation was selling tickets for a raffle that had many items that looked really interesting. This was the good kind of raffle where you got to put your tickets in a bag next to the item(s) you wanted, so you wouldn't be stuck winning an item you didn't want. I bought seven tickets and put them all in the kitty for a wine-themed gift basket. After Sister Swing's second set, the raffle winners were announced and my number was drawn for the gift basket I wanted. Lucky me.
We were going to stay for the third set, but it was getting late so Caith and I decided to leave and head back to Clark's to pick up our Quinta de Amador. During the drive to Clark's, I untied the bow around the cellophane package to see what all was in the basket: a gift certificate for two for Clark's Corner's Wine Time (a wine tasting event they hold every Friday night), two wine glasses and a bottle of Dobra Zmelja wine. I held the package in my lap until we got to Main Street.
Caith parked his truck along the street and as I lifted the basket off my lap, I noticed there was something wet all over my skirt. "Holy ****!" I screamed. "The wine bottle broke and I got wine all over me!"
We inspected the bottle and noticed it had NOT been broken. It had come uncorked. The bottle was nearly empty and there was a large amount of wine in the bottom of the cellophane wrapping of the gift basket. My skirt was heavy with leaked wine. We were left bewildered as to how a bottle of wine could spontaneously uncork itself.
Despite the mess all over my clothes, we still walked into Clark's. This is testament to how determined I was to get a bottle Kevin's wine. Fortunately, my skirt was black so it didn't show the wine stain.
When we got back to the truck, I noticed we had parked across the street from the Ione Hotel, where I had my first of three paranormal investigations with Haunted and Paranormal Investigations Inc.'s Paul Dale Roberts back in January. The Ione Hotel is yet another allegedly haunted site. When I interviewed Roberts all those months ago, he told me about a gregarious ghost named George who loved to play tricks on the patrons.
I couldn't help but wonder if George was the one who mysteriously uncorked the wine, or if it was Anna Corbin showing her displeasure at us leaving early. Or maybe the bottle had been tampered with before the gift basket was wrapped. Or maybe it was some funky phenomenon that happens to wine when it gets too hot.
Whatever the reason, when we told the barista at Clark's Corner about the incident, she took my name and number and said she would talk with the manager to see about getting my bottle of Dobra Zmelja replaced. That would be cool, but even if I don't get a replacement bottle of wine, I at least got a good ghost story out of the experience. That was something I didn't plan on getting when I bought my raffle tickets.
Article Copyright© Paul Dale Roberts - reproduced with permission.