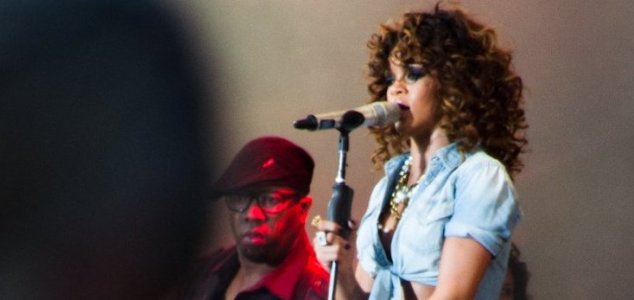 Rihanna at the V Festival in 2011.

Image Credit: CC 2.0 Nick Robinson
The best-selling singer is believed to have held a life-long fascination of the UFO phenomenon.
According to reports, Rihanna has hired a "sky scanner" based at the famous Little A'Le'Inn near Area 51 in Nevada to keep her apprised of the latest UFO reports and sightings. The popular motel is a prime destination for tourists looking to explore the region that has become synonymous with UFOs thanks to its proximity to the enigmatic base.
According to reports, Rihanna has more than a passing interest in the phenomenon and believes that we are likely to be visited by an alien civilization within her lifetime. "My dad used to make me sit outside on the steps all night long in Barbados looking for UFOs flying by," she said. "I had to do that for years. I didn't see any, but I saw a falling star once and I was like: 'Yes, Dad! Come and see!"
Rihanna is one of several well known celebrities to have shown an interest in UFOs. Another notable example, British singer Robbie Williams, claims to have personally seen a UFO on three separate occasions and has spent a lot of time investigating the phenomenon.
Source: IB Times | Comments (18)
Tags: Rihanna, UFO