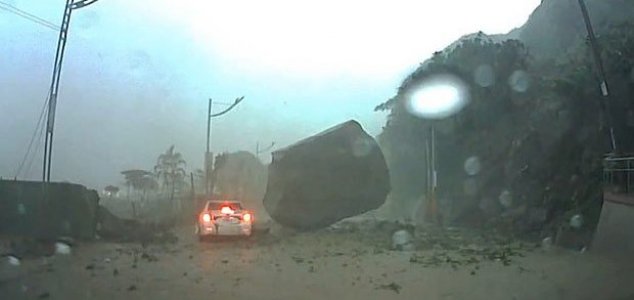 The boulder was inches away from crushing the car.

Image Credit: YouTube
Insane footage has emerged showing a driver narrowly escaping death by mere inches during a rainstorm.
Video footage from one of the most harrowing near misses ever recorded has appeared online. Originally posted on Reddit, the video was filmed from the dash-cam of a car driving along a road in Taiwan during heavy rain.
A few moments in to the footage a plume of mud and rock can be seen hurtling down from steep cliffs on the right-hand side, landing on the road and knocking the white car sideways. When the dust settles however the true extent of the danger can be seen - a gigantic boulder teetering on it's edge, mere inches away from crushing the car and anyone inside it.
While the driver of the white car was lucky this time, mudslides and falling rocks claim the lives of several dozen people a year in Taiwan where steep cliffs and heavy rain make accidents of this nature all too common.
Comments (19)
Tags: Taiwan, Boulder