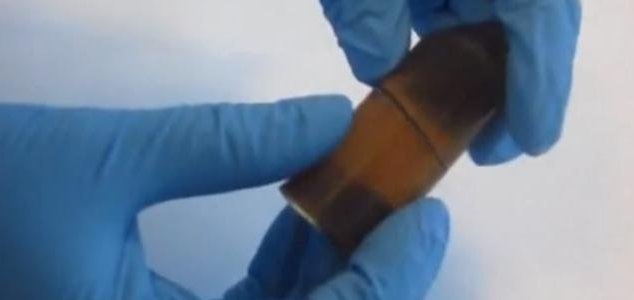 The material can be split in two and then healed.

Image Credit: YouTube / ChemistryWorldUK
Scientists have developed the world's first self-healing material that can work at room temperature.
The concept of a material that heals on its own when damaged or broken has been a science fiction staple for years, but now scientists at the Centre for Electrochemical Technologies in Spain have succeeded in producing a real-life self-healing polymer.
Nicknamed "The Terminator Polymer", the material is extremely resilient to damage and is even capable of mending itself after being severed in to two pieces. The healing process can occur at room temperature and will happen on its own without the need for special treatments, chemicals or other intervention.
"The introduction of a room temperature exchangeable covalent bond in classic thermoset elastomers provides unique autonomous self-healing abilities without comprising the pristine material properties," said Richard Hoogenboom from Belgium's Ghent University. "Close resemblance of this novel self-healing thermoset elastomer with current commercial materials makes it highly interesting for extending the lifetime of such materials."
Source: RSC.org | Comments (6)
Tags: Self-healing