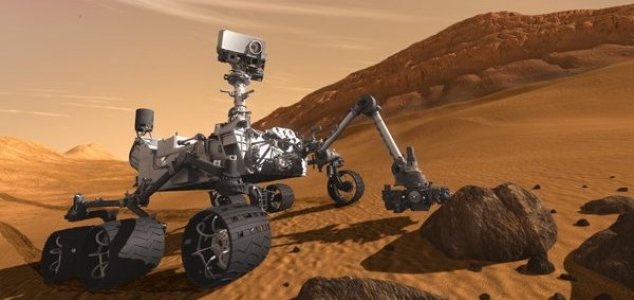 Curiosity will continue to take readings to monitor for signs of methane.

Image Credit: NASA/JPL-Caltech
NASA's Mars rover has been unable to find any significant amount of methane in Mars' atmosphere.
The hunt for methane is important because methane is generally considered to be a possible indicator of the presence of life. Recent observations from telescopes on Earth seemed to suggest that there was methane on Mars, but the readings from Curiosity have defused the excitement somewhat.
"Ninety percent of the methane of Earth's atmosphere originate from microbes," said Canadian Astrology chairman Lyle Whyte. "That's why people got excited about methane in Mars' atmosphere."
The original methane readings had been made by NASA planetary scientist Michael Mumma who had used observations from both the Keck Observatory and the Infrared Telescope Facility in Hawaii. "When we saw the methane plumes, we saw values range from 20 to 60 parts per billion," he said. "Curiosity's upper limit is only 1.4 parts per billion."
What does all this mean for the possibility of finding life on Mars ? While we don't necessarily need to find methane for there to be life on Mars, this latest setback makes it less likely that we will find anything living there. "It's not a definitive sign saying that there is no life on Mars, but it's not a good sign," said Whyte.
Source: Yahoo! News | Comments (14)
Tags: Mars, Curiosity