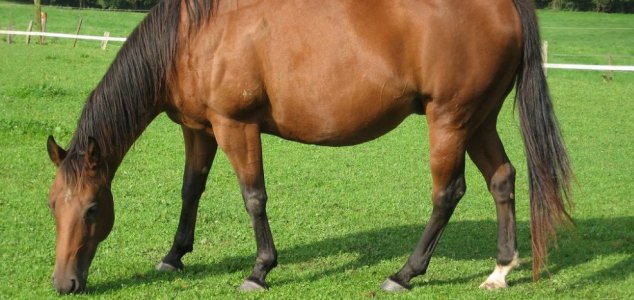 The horse had managed to jump on to the roof.

Image Credit: CC BY 2.0 Evelyn Belgium
A couple in New Brunswick were shocked when they found the animal standing on the roof one morning.
Having raised horses themselves, Stephen and Pat Downey were no strangers to the sight of horses around their property. Finding one perched on the roof of their garage however is a spectacle that neither of them would have ever expected to see.
The stricken animal had somehow managed to jump up over 3ft on to the roof during the night and had stood there until the morning. The couple eventually managed to coax the horse down by herding it to one side of the roof where it could jump back down to the ground.
"In the 15 years we've had horses, I can honestly saying nothing like this has ever happened," said Pat. The couple had taken a photograph of the incident and sent it to some of their friends, but nobody would believe that the picture was real.
"I sent it to a lot of people and a lot of people laughed," said Stephen. "They think it's not real. They think you've Photoshopped it but it's real and it really happened and it's a good story because nothing bad happened."
Source: CTV News | Comments (27)
Tags: Horse