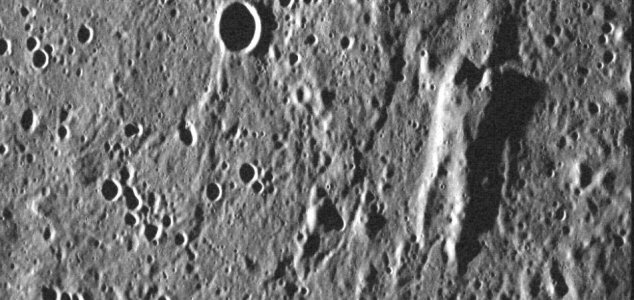 The rock resembles the shape of a humanoid figure.

Image Credit: NASA/Johns Hopkins University
NASA's Messenger spacecraft has caught an unusual looking shape on the nearest planet to the sun.
Launched in 2004, the eagle-eyed probe has managed to capture many photographs of the planet's surface including one shot which includes a particularly familiar looking shape that seems at first glance to be somewhat out of place.
On an image taken of Mercury's Caloris basin is an ancient block of surface crust jutting upwards from the ground that bears an uncanny resemblance to a humanoid figure with its arms raised up in the air. Observers of the photograph have pointed out that the shape looks a lot like the iconic image of Star Wars character Han Solo after he had been frozen in carbonite.
While little more than a case of pareidolia, the tendency for us to see meaningful shapes in otherwise abstract patterns, the sighting of this image is similar in nature to the infamous "Face on Mars" which was photographed in Mars' Cydonia region by the Viking 1 spacecraft in 1976.
"If there are two things you should remember, it's not to cross a Hutt, and that Mercury's surface can throw up all kinds of surprises," NASA wrote. "In this image, a portion of the terrain surrounding the northern margin of the Caloris basin hosts an elevated block in the shape of a certain carbonite-encased smuggler who can make the Kessel Run in less than twelve parsecs."
Source: Universe Today | Comments (41)
Similar stories based on this topic:
Tags: Mercury