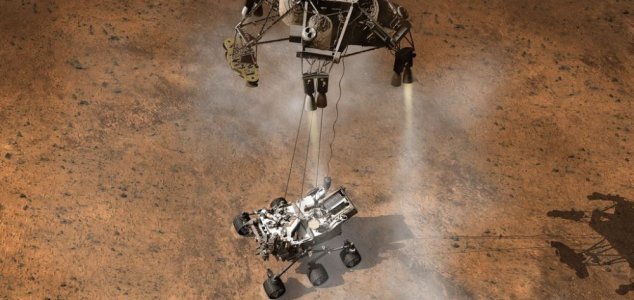 Curiosity used up 10 pounds of the plutonium-238 supply.

Image Credit: NASA/JPL-Caltech
The fuel needed to send space probes on missions to other planets could run out within ten years.
With the success of missions such as the Curiosity Mars rover, Cassini-Huygens and the legendary Voyager 1 which was reported to have left the solar system only last week, things would seem to be going very well in the field of interplanetary exploration. Scientists have warned however that all this could come to an abrupt halt within ten years because the fuel needed to power these missions, plutonium-238, is about to run out.
Plutonium is currently the only viable fuel for long-term deep space missions, neither solar power nor chemical batteries are sufficient. Plutonium-238 has only ever been produced as a byproduct in the manufacture of nuclear weapons, something that hasn't been happening for many years now. The result is a dwindling stockpile of plutonium that at the current rate will soon run out completely.
The US currently possesses about 36 pounds of plutonium-238 for scientific purposes and some missions, such as the Mars Curiosity rover, can use up to 10 pounds each.
Officials are currently working towards finding a way to reintroduce plutonium production before the supply runs out entirely, but it looks like it may take either extensive production or a completely alternative fuel source to keep deep-space exploration afloat much beyond the next decade.
Source: Wired | Comments (5)
Tags: Plutonium