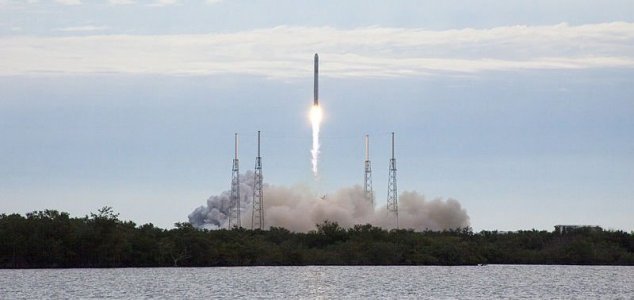 The Falcon 9 rocket soars in to the heavens.

Image Credit: NASA/Jim Grossmann
Reports have flooded in of strange phenomena in the skies over South Africa and the Indian Ocean.
SpaceX has been going from strength to strength lately as it successfully launched its Falcon 9 rocket from Vandenberg Air Force Base in California on Sunday. Carrying the Canadian Cassiope research satellite, the launch is being hailed as another step towards a new generation of rockets for the private sector.
Shortly after the launch however reports started to flood in across Southern Africa and the Indian Ocean of strange objects in the sky. Described in Zimbabwe as a "strange moonlike object", sightings of UFOs increased dramatically with headlines reflecting a spate of reports over a wide area.
It didn't take long however for the connection to the rocket launch to be realised, what people were seeing was in fact the result of fuel being released by the rocket's second stage.
"This release by chance coincided with sunset beneath that part of the orbit, as the booster and its deployed satellites flew from south to north directly over Madagascar, about 850 miles high," said space analyst James Oberg.
Source: NBC News | Comments (17)
Tags: SpaceX, Falcon 9, UFO