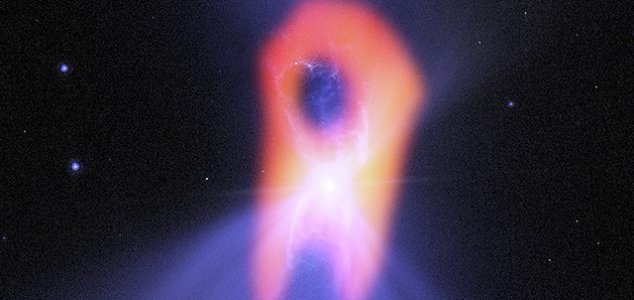 The Boomerang nebula.

Image Credit: NRAO/AUI/NSF/NASA/STScI/JPL-Caltech
The Boomerang nebula is 5,000 light years away and has a temperature of -458 degrees Fahrenheit.
The temperature of the nebula is in fact so low and it is colder then the depths of interstellar space and is believed to be the coldest object observed anywhere in the known universe. Images of the nebula show it to exhibit a strange, ghost-like appearance.
Known as a planetary nebula, the object represents the end of the life cycle of a star not dissimilar to our own sun. Astronomers used the Atacama Large Millimeter/submillimeter Array (ALMA) telescope in Chile to learn more about the nebula and to determine its true shape.
"This ultra-cold object is extremely intriguing and we're learning much more about its true nature with ALMA," said JPL scientist Raghvendra Sahai. "What seemed like a double lobe, or boomerang shape, from Earth-based optical telescopes, is actually a much broader structure that is expanding rapidly into space."
Source: JPL | Comments (13)
Tags: Boomerang Nebula