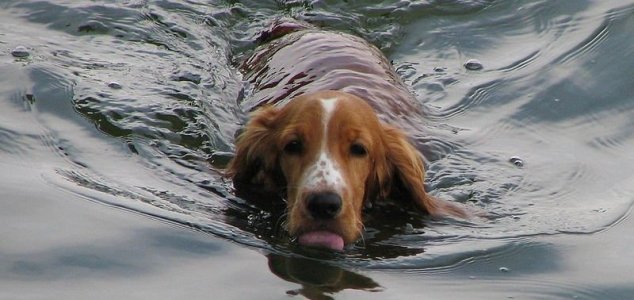 A wagging tail is usually associated with happiness.

Image Credit: CC BY-SA 3.0 Bogdan Giusca
Scientists have been attempting to learn more about the way a dog communicates by wagging its tail.
A dog wagging its tail tends to be associated with a positive mood, but the direction of the wagging can often hold a significance that usually goes unnoticed. A dog that wags its tail predominantly to the right is usually exhibiting happiness, whereas tail wagging oriented towards the left can mean that the dog is anxious or nervous.
Scientists conducted a series of experiments to help them understand this behavior and to see whether dogs themselves are able to pick up on the tail movements of other dogs. To do this they showed a number of dogs some videos of other dogs and observed how they responded.
During the testing dogs who were shown a video of a dog wagging its tail to the right appeared to remain happy and relaxed while those shown a video of a dog wagging its tail to the left seemed to become anxious.
Neuroscientist Prof Georgio Vallortigara concluded that rather than intentionally communicating through tail movements, dogs had instead learned from experience what movements to associate with positive and negative behaviors.
"If you have several meetings with other dogs, and frequently their tail wagging one way is associated with a more friendly behavior, and the right side is producing a less friendly behavior, you respond on the basis of that experience," he said.
Source: BBC News | Comments (16)
Tags: Dog