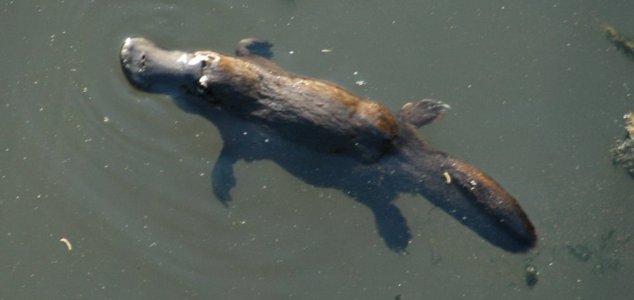 The platypus has a highly unusual appearance.

Image Credit: CC BY-SA 1.0 Peter Scheunis
Dubbed 'platypus-zilla', the ancient ancestor of today's platypus was thought to be over 1m in length.
The duck-billed platypus is undeniably one of the most unusual creatures ever discovered. With the body of a beaver, the beak of a duck and the feet of an otter it has all the hallmarks of several different animals stitched together. When European explorers first reported encounters with the creature it was widely considered to be an elaborate hoax.
Now the story of the platypus has gained a new chapter, a prehistoric ancestor that was much larger than its modern-day counterpart. The 3ft giant would have lived between five and 15 million years ago, raising new questions about the evolution of the species.
"Suddenly up pops 'playtpus-zilla' - this gigantic monstrosity that you would have been afraid to swim with," said Prof Mike Archer. "It indicates there are branches in the platypus family tree that we hadn't suspected before."
The giant platypus is thought to have eaten fish, crustaceans and turtles in an environment covered in thick forest and riddled with freshwater ponds.
Source: BBC News | Comments (8)
Tags: Platypus