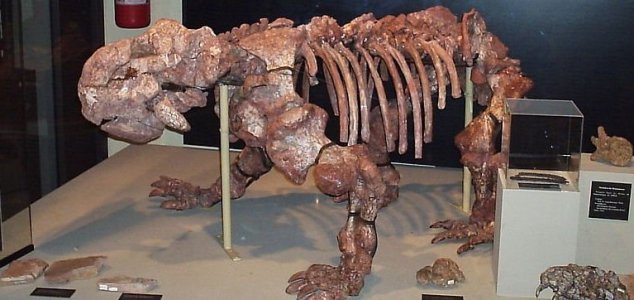 A dinodontosaurus skeleton.

Image Credit: Sergio Kaminski
A vast latrine dating back more than 240 million years has been discovered in Argentina.
Thought to be the "world's oldest public toilet", the site has proven to be a treasure trove of fossilized droppings. While many modern animals such as horses, antelopes and elephants have been known to make use of a communal lavatory, all current known examples are completely dwarfed by the sheer scale of this prehistoric dumping ground.
Paleontologists with the unenviable task of closely examining the droppings believe that they belonged to an 8ft long megaherbivore called Dinodontosaurus which would have been similar to modern day rhinos. "There is no doubt who the culprit was," said Dr Lucas Fiorelli. "Only one species could produce such big lumps - and we found their bones littered everywhere at the site."
Not only do the droppings help to explain the animals' behavior but they also provide clues as to what they ate. "When cracked open they reveal fragments of extinct plants, fungi, and gut parasites," said study co-author Martin Hechenleitner. "Each poo is a snapshot of an ancient ecosystem - the vegetation and the food chain. Maybe with these fossils we can glimpse into the lost environment which gave rise to the dinosaurs."
Source: BBC News | Comments (12)
Similar stories based on this topic:
Tags: Dinosaur