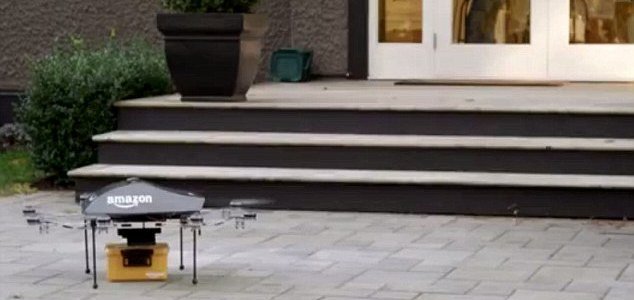 The drones will be able to deliver a parcel directly to your door within minutes.

Image Credit: Amazon
The online retail giant is testing a new delivery system that used unmanned drones to send parcels.
The drones, called
Octocopters
, would be capable of delivering parcels weighing up to 2.3kg within as little as 30 minutes of the order being placed, however there is still quite a long way to go before the service will be ready to launch.
"I know this looks like science fiction, but it's not," said Chief Executive Jeff Bezos. "We can do half-hour delivery... and we can carry objects, we think, up to five pounds (2.3kg), which covers 86% of the items that we deliver."
Officially branded
Prime Air
, the service could still be another five years away due to technological and legal hurdles. One of the challenges will be to get the US Federal Aviation Administration to approve the use of unmanned drones for civilian purposes.
"From a technology point of view, we'll be ready to enter commercial operations as soon as the necessary regulations are in place," Amazon said in a statement. "One day, Prime Air vehicles will be as normal as seeing mail trucks on the road today."
Source: BBC News | Comments (46)
Tags: Amazon, Drone