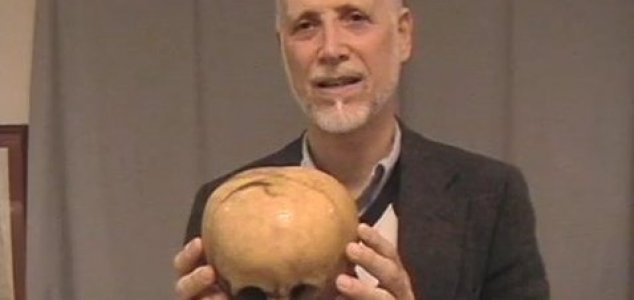 Lloyd Pye with the Starchild skull.

Image Credit: Lloyd Pye / YouTube
The author and paranormal researcher died on Monday evening at the age of 67 after a battle with cancer.
Author of several books including the novels
That Prosser Kid
and
Mismatch
, Pye was a keen proponent of Bigfoot and other paranormal topics, making numerous television appearances over the years on
The National Geographic Channel
,
Animal Planet
,
The Learning Channel
and others.
He was perhaps best known however for his extensive research and promotion of the enigmatic Starchild skull, an abnormally shaped human-like skull that he believed was evidence of the hybridization of humans with an advanced extraterrestrial race.
The skull was originally discovered in a mine southwest of Chihuahua, Mexico in around 1930 and was later obtained by Pye from a couple in El Paso, Texas. He spent years researching and promoting the find, having taken it to numerous experts in an effort to get to the bottom of the mystery.
While DNA testing seemed to suggest that the skull was in fact human, Pye actively maintained his hybridization theory right up until he was forced to retire from work due to his cancer diagnosis earlier this year.
Regardless of the skull's true origins, Pye will always be remembered for his passion, for his devotion to finding the truth and for his unending commitment to bringing some of the world's most intriguing mysteries to audiences all over the world.
Source: Examiner | Comments (17)
Tags: Lloyd Pye, Starchild